Hey Roots Readalong Fans.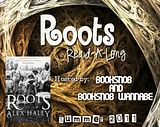 The Roots post for week 7 is postponed until Wednesday.
I am currently back packing with my son on the Superior Hiking Trail in Minnesota until Tuesday. We will be hiking from Castle Danger to Gooseberry Falls and then to the Split Rock Lighthouse. We are hiking 15 miles, pack in and pack out everything you need. We will emerge, stronger, tired, bug-bitten, sweat ridden and happy to be home. I can't wait!
The Hometown Track Author in the Spotlight will be announced on Wednesday as well after I have had a good night's sleep in my own bed.